Tooth loss totally- What is the best solution?
Tooth loss is no longer an unfamiliar problem for many people. There are many causes of tooth loss, but the loss of teeth more or less also affect the aesthetics and chewing. Thus, the loss of full jaw teeth creates inferiority complex by for many people when eating. However, you should not worry because of appearing of the new technology of implants which is All on Four and All on Six. To know more about two new techniques, let see information below:
WHAT IS "ALL ON FOUR" TECHNIQUE?
This method will Implant four implants pillar into the jaw bone, including the two front and two posts in the back of jaw bone to restore chewing ability and aesthetics. All the four implants will be fixed 12 teeth crown to restore the original teeth. The four implants pillars will support fixed dentures help it does not move, minimize the surgery of bone graft. Normally, the All on Four (All on 4) technique is indicated for restoration of the lower jaw. If used for the upper jaw, the jaw bone must be hard.
WHAT IS "ALL ON SIX" TECHNIQUES?
All on Six (All on 6) will be the perfect choice for all upper or lower jaw teeth if the jaw bone is too weak. This is the technique of inserting four implant cylinders at the front teeth and two at the molar, is the back of the teeth. All on Six will give you stronger teeth than All on Four methods.

WHY SHOULD YOU USE ALL ON FOUR OR ALL ON SIX TECHNIQUE?
Dental implants by All on Four, All on Six technique is receiving a lot of attention from customers and is appreciated by experts because:
Rapid implementation time, limited pain: Only 4 to 6 cylinders/jaw are implanted, thus minimizing the number of surgeries. Do not lift the sinuses, and grafting bond leads to performed quickly. This helps the treatment process is rapid, save time which brings good results for customers.
Make sure your chewing function is better than real teeth: All on Four, All on Six helps to completely restore the best ability to eat chewing.
Restore aesthetics: Implant prostheses have the shape, natural colors like real teeth, restore beautiful teeth and smile confidently.
Limiting bone loss which is caused by tooth loss in the long time.
Sustainability: If your teeth properly cared about implantation with All on Four, All on Six, Dentures can last a lifetime. The dental porcelain that is attached to the abutment screw can be easily removed to adjust as needed without affecting health.
Cost savings: All on Four, All on Six implants need to be implanted with 4 or 6 implants and the cost of treatment that includes the teeth on the Implant that are less than the cost of conventional implants. This method still ensures the best restoration results.
DOES IMPLANT BY "ALL ON FOUR AND ALL ON SIX" METHOD CAUSE PAIN FOR PATIENT?
In fact, all dental treatments cause pain. However, All on Four, All on Six methods has only a feeling of sensitivity during the operation, when implanted into the jaw bone.
Do not worry too much because before going on, the doctor will anesthetize to decrease the pain in the treatment process. Approximately 1 week after implant placement, the feeling of discomfort will go away because you are prescribed.the prescription by your doctor.
PRESTIGIOUS ADDRESS TO RESTORE TOOTH LOSS
All on Four, All on Six is a relatively complex implant, which must be performed by a qualified physician at a reputable facility. Dai Nam Hospital is proud to be the prestige center of implant tooth loss restoration, bringing confidence to customers in and outside the country.
Dai Nam hospital has the team of highly qualified and experienced doctors and technicians who regularly attend advanced technical courses. Moreover, Dai Nam owns modern equipment imported directly from abroad which has been closely monitored, has brought success to many implants from simple to complex.

In addition, Dai Nam Hospital always notices the source material in All on Four, All on Six methods which are censored by the Ministry of Health to ensure safety for customers. The system of operating rooms, dental instruments are always sterile thoroughly, avoid the occurrence of inflammation after treatment.
Particularly, only at Dai Nam Hospital implant treatment will be covered for life throughout the system.
Implanting by All In Four, All On Six method at Dai Nam Hospital help more than 1,000 tooth loss cases become more confident.
Picture of the customer who is tooth loss at Dai Nam Hospital.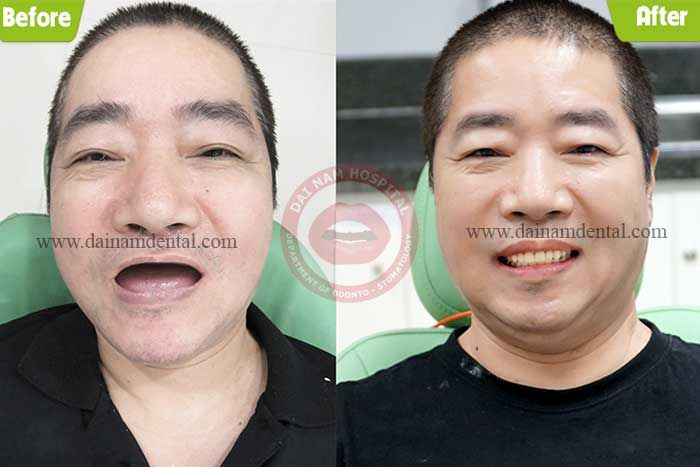 –    Mr. Henry Tran – Oversea Vietnamese. He resurrected permanent teeth fixed by All on Six methods for the upper jaw and All on Four for the lower jaw. (The results depend on the patient's natural disposition )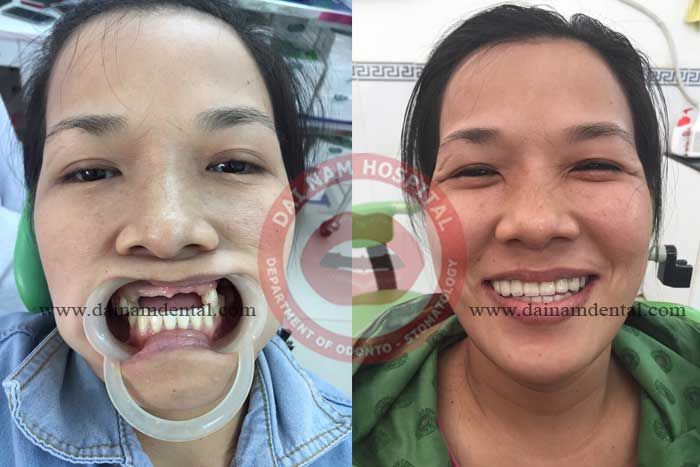 –    Picture before and after restoration by All on four methods of Mrs.Trang Hanh. (The results depend on the patient's natural disposition )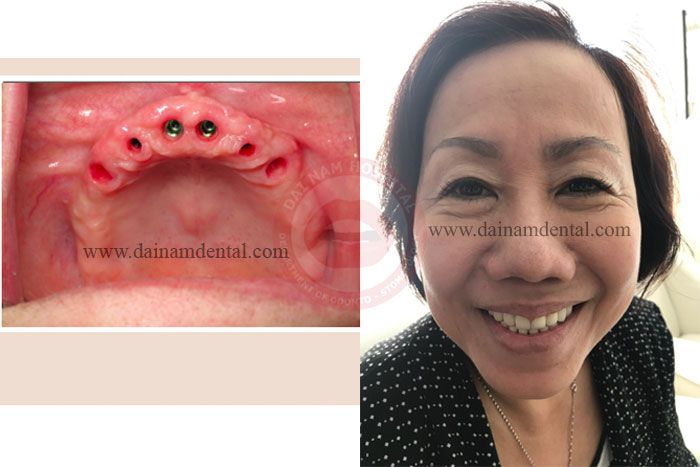 –    Ms. Jessica Nguyen – Vietnamese American. She is happy, beautiful with new teeth after restoration by All on Six implants.(The results depend on the patient's natural disposition )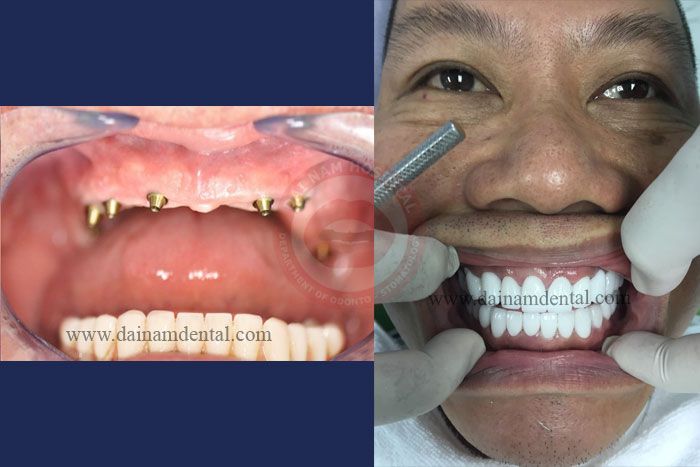 –    Mr. Van Cuong – Living in Can Tho. He has comfortable eating thanks to stronger teeth after using All on Six methods (The results depend on the patient's natural disposition )
COST OF IMPLANT BY ALL ON FOUR OR ALL ON SIX METHOD AT DAI NAM HOSPITAL
Which cost do we must pay forAll In Four, All on Six? It depends on the type of implant you choose. At Dai Nam Hospital there are now many different implant label, meeting the conditions of each person. For details on the price of each type of implants All on Four, All on Six, let find out price list below.
Price List Implant by All on Four, All on Six at Dai Nam Hospital
Services
Prices (USD)
Implant Placement
Crown on Implant
Korea Implant
500
300
French Implant
700
300
USA Implant
900
350
USA Implant – Active
1000
350
Switzerland Implant
900
350
Switzerland  Implant – Active
1000
350
If you still have any questions, please contact us directly at Hotline: 096 4444 999 for the free consultation. Dai Nam Hospital always welcomes you.

DAI NAM DENTAL CLINIC – "THE REPUTABLE DENTISTRY"
Dai Nam Hospital - Oral care centers better
179-181 Nguyen Thi Minh Khai, Dis1, HCM
Hotline: (+84)964 444 999 - 1900 2879
Mon–Sat: 8.00–8:00 / Sun: 8.00–6:00
Email: info@benhviendainam.vn
More 32 branches tại đây..