All on six - The best solution for the loss of full teeth
All on Six Implants for people who are the loss of teeth is a remarkable step forward in the dental profession. This is the solution to restore a healthy tooth, aesthetics and functional eating better than real teeth. What Is All On Six Implant? How does the process work? Let find out this information through the Dai Nam Hospital.
WHAT IS  ALL ON SIX IMPLANT?
Implant All on Six is a technique of implant 6 implants on each jaw. All implant cylinders are inserted directly into the jawbone, the four cylinders are implanted in the front teeth, the other two are attached to the two lateral molars. All on Six is often prescribed for lower jaw implantation because 6 implants cylinders will bring stronger teeth.
All on Six implants have higher effective to conventional methods, with good performance, aesthetics and be compatible with real teeth to 90%.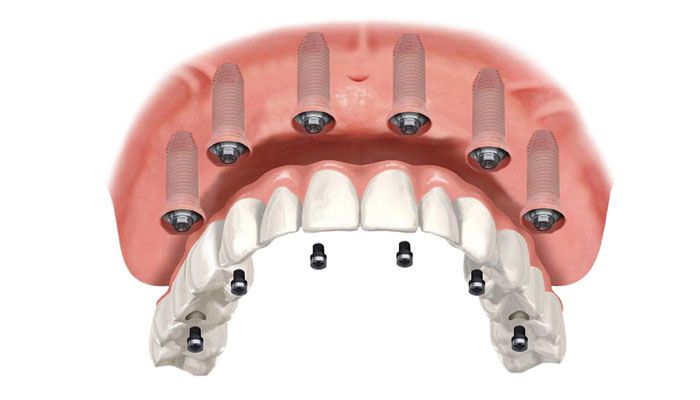 WHAT ARE THE BENEFITS OF IMPLANT ALL ON SIX?
Bringing healthy teeth, ensuring better chewing function than real teeth.
Preventing of bone loss due to long-term tooth loss.
High aesthetic, beautiful nature.
Stable quality, long-lasting, not hurt inflammation.
Limiting some disease related to dental.
Bringing the confident smile, comfortable communication.
Saving time, money, fast recovery process brought new teeth could chew well.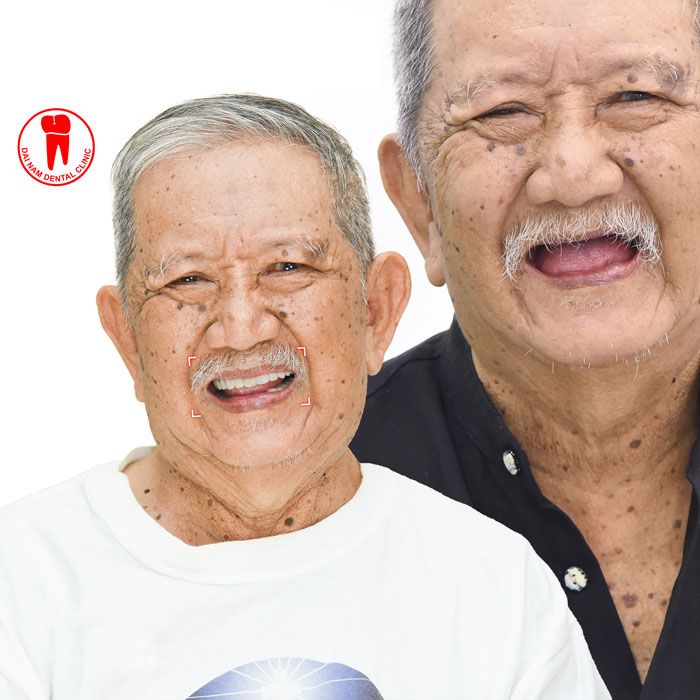 PROCESS OF IMPLANT ALL ON SIX METHOD AT DAI NAM HOSPITAL
Step1: Examining and taking the CT Cone Beam
Step 2: Analyzing the bone status and giving the appropriate treatment regimen.
Step 3: Getting the seal of the jaw.
Step 4: Performing anesthesia, implant surgery on the All on Six methods. Attaching tooth temporary to ensure chewing and aesthetics.
Step 5: Fixing the permanent teeth on the implant and completing the process of implant All on Six.
WHY SHOULD WE CHOOSE FULL JAW RESTORATION AT DAI NAM HOSPITAL?
Dai Nam Hospital is proud to be the most prestigious implants center today:
Applying advanced technology: Dai Nam Hospital is one of the first establishments to apply All on Four methods, All on Six in dental treatment, bring high efficiency to customers.
A team of highly qualified doctors has more than 20 years of experience in dental treatment and implants, regularly attending intensive training courses in the UK, US, Germany, France, … They will directly treat the customer.
Applying the most advanced technology into the treatment. Equipment and machinery are invested from abroad, ensuring the best results for customers.
The system of facilities at Dai Nam Hospital is equipped with modern, imported from foreign countries, treatment rooms are sterile, strict inspection.
The cost of treatment is clearly listed and there is the support to pick up at the airport and stay in the hospital for clients live in far to treat easily.
Warranty policy and clear mode, detail for each service. Only in Dai Nam Hospital, we have a lifetime warranty for Implant.
The team of enthusiastic staffs always support every problem of customers in the shortest time possible.
Every year, Dai Nam Hospital is happy to fulfill the mission of bringing healthy teeth, perfect smile to about 1,000 domestic and foreign customers. That is the driving force for Dai Nam Hospital is growing, affirming brand reputation.
COST OF IMPLANT BY ALL ON SIX METHOD
How Much is All On Six method? Our answer is that it depends on the type of implant you choose. All on Six cost at Dai Nam Hospital are included totally. Details about each type of implants, you refer to the price list below.
Dai Nam Denal Clinic: Head Office: 179 – 181 Nguyen Thi Minh Khai Street, District 1 Hotlines: 0964 444 999