RENOWNED CLINICS FOR DENTAL IMPLANT SURGERIES PRICE LIST FOR DENTAL IMPLANT SURGERIES
For a safe and efficient dental implant surgery, it's crucial for customers to choose a clinic with a good reputation, having highly skilled doctors, and equipped with advanced medical devices as well as having enthusiastic consultants. Actually it's not that hard to spot such clinics as they're commonly chosen and recommended by overseas Vietnamese and artists. This information is also available online via several websites or social networks.
DAI NAM DENTAL – RENOWNED CLINICS FOR AESTHETIC DENTAL IMPLANT SURGERIES
As one of the pioneers in applying foreign dental implant techniques in Vietnam, Dai Nam Dental Clinics are considered a trusted destination for local and foreign patients with aesthetic dental surgeries. We are highly experienced in using implants for dental treatment and recovery, from the simplest cases to the most complex ones. All our patients have been very satisfied with the result
and given us positive feedback. In order to achieve those successes, Dai Nam Dental Clinics have continuously given our best efforts. Starting with just a small clinic, now we have expanded into a well-known system with more than 30 branches all over the country, and have provided dental implant surgeries to thousands of customers. It's not easy to get those achievements without strictly
applying and following our set of standards. They are as below:
SKILLFUL AND PROFICIENT IMPLANTOLOGISTS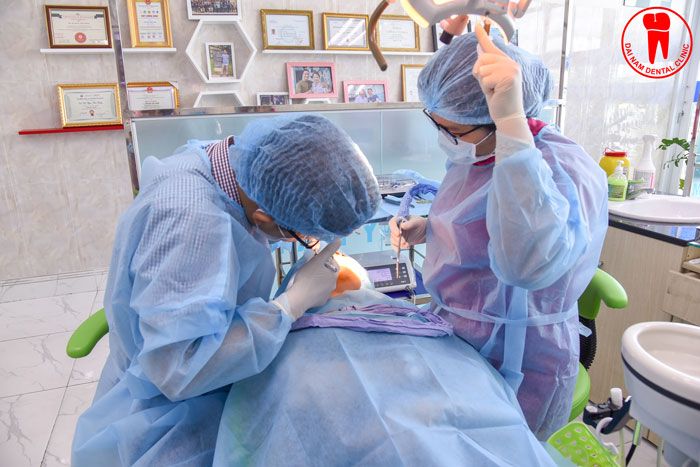 The most important factor to build up a successful and reputed dental clinic are their doctors. At Dai Nam Dental Clinic, our implant doctors are strictly employed based on our strict professional requirements.
Formally trained at reputed medical universities, majored in dental implant surgery.
Went through an implantology fellowship program and achieved highest proficiency.
Licensed by the Department of Health to practice dental implant surgeries.
In addition, the Implant Doctor is required to be absolutely careful, deeply knowledgeable about the implant procedure, calm and dedicated to patients.
Throughout their employment at Dai Nam Dental, all our doctors, especially dental implant doctors are frequently sent to attend refresher courses domestically and internationally in Korea, France, Switzerland, US, Germany, etc. to improve their professional skills.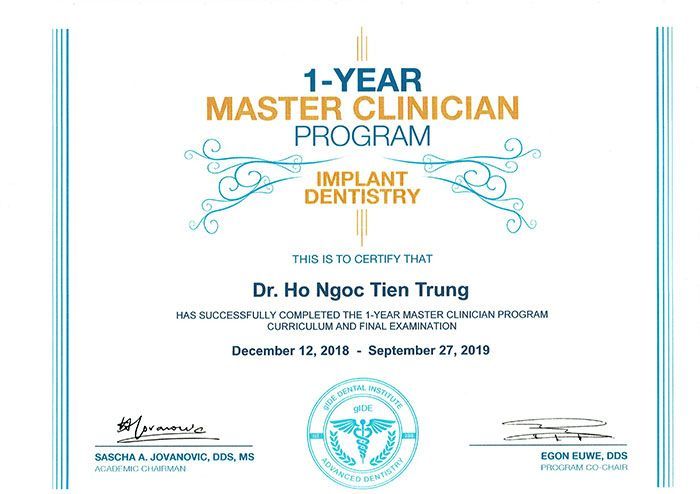 Our team of proficient and professional implantologists is led by Dr. Ho Ngoc Tien Trung who is trained in the US and a Master's Degree in Implantology holder. He has more than 20 years of experience and is the most experienced implantologist at our clinics. He has directly guided and supported other dentists during their dental implant surgeries for our customers. Therefore, with our team of competent doctors, you can fully put your trust in us to have strong, healthy teeth and a beautiful smile.
STATE-OF-THE-ART MEDICAL DEVICES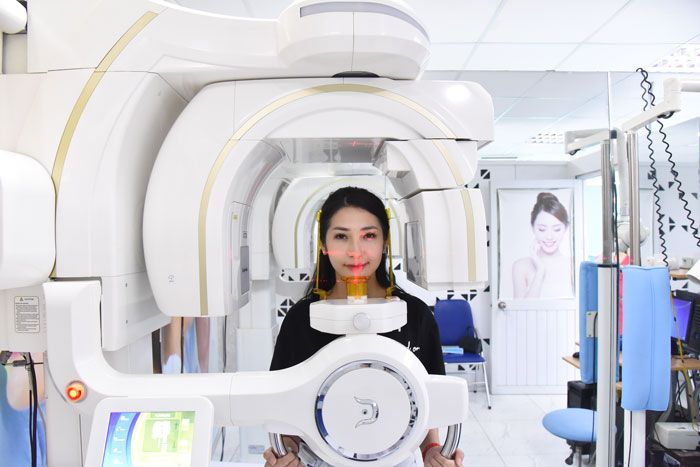 Along with our excellent, experienced doctors, we are using the most advanced medical devices to have the best results for dental implant procedures.
Cone Beam Dental X-Ray Machine: For a safe and efficient dental implant surgery, doctors need to asset bone quality, teeth structure and other internal defects to have the best treatment solution for customers. CT scans can provide doctors with best images for internal structures such as: blood vessel structure, neural system of mandibular teeth, lateral wall and septum of the maxillary sinus to have the most accurate result. Therefore, Dai Nam Dental decided to equip the Cone Beam Dental X-Ray Machine, a modern medical device which is not always available at other dental clinics in the area. This machine allows the combination of X-rays and pre-programmed computer programs to generate 3D images. The images will provide a clear visualization of soft tissues, teeth structure, nerves and bone inside the facial skeleton. Compared with conventional X-Ray machines, The Cone Beam Dental X-Ray scanner is considered the most efficient and quality.
Mega ISQ – Implant Stability Meter: to best support the implant surgeries and reduce implant restoration time, Dai Nam Dental has continuously improved the procedure by employing the use of Mega ISQ. It can accurately measure the stability of implants within seconds via a simple, non-invasive medical procedure. It also helps doctors find the most optimal time for implants to fuse to the jawbone. By providing accurate measurement on implants stability, the device contributes greatly to the success of dental implant procedures. Mega ISQ overcomes and minimizes the damage to soft tissues and cortical bones that usually occurs in the conventional torque method.
Drills for dental implants: They are one of the most indispensable equipment needed during the surgery. We are using the most advanced drills with a specialized drill bit which does not cause any pains or damages to patients. At Dai Nam Dental, all devices and equipment employed during the implant surgery are cleaned and sterilized following a strict standard to ensure patients' utmost safety.
FRIENDLY AND ENTHUSIASTIC STAFF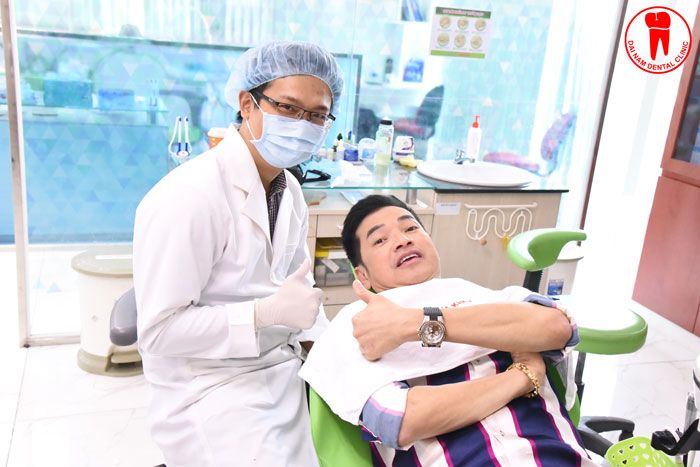 Good manners and service etiquette are some of the most basic and important factors which significantly contribute to the image of a dental clinic. Whether serving our customers directly or indirectly, customer satisfaction has always been taken by Dai Nam Dental as the first priority in our daily operation.
Online consultants: Our online consultants are always willing to answer all your questions regarding dental implant procedures before and after your implant surgery with us. Beside their strong knowledge acquired via frequent professional training programs, we also provide other training to continuously improve their attitude in order to provide customers with the friendliest and most joyful consultation sessions.
Direct consultants and staff: For other staff like Doctors, Nurses, Receptionists, Security Officers, training on communication and service etiquette are what we focus on as well. Thanks to that, we have received lots of positive feedback from our customers, even from the most demanding ones.
Read more: ALL-ON-4 AND ALL-ON-6 IMPLANTS
IMPLANTS WITH PERMANENT WARRANTY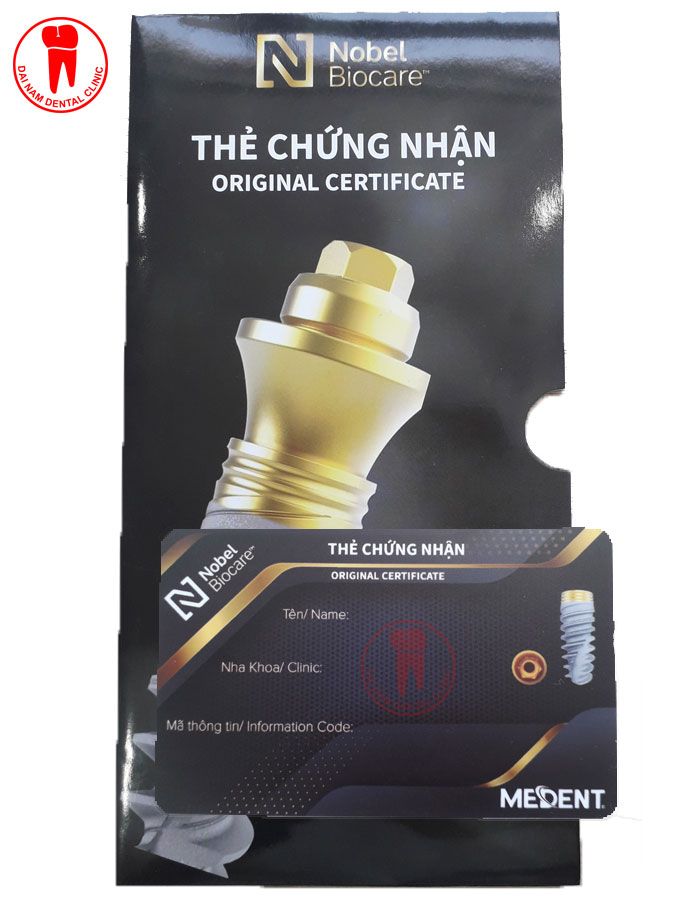 For your absolute faith when choosing implant services at Dai Nam Dental, they come with a lifetime warranty. This proves the top quality and reputation of implants which we are using for our customers. The policy has brought a nice surprise to our customers. It has also contributed to our sustainable growth, helped earn total trust from our clients, locally and internationally.
FREE EXAMINATION – CONSULTATION ON DENTAL IMPLANT PROCEDURES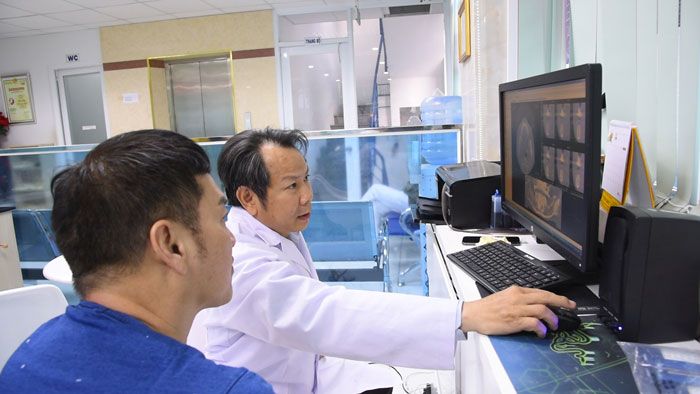 It is common for many patients to question whether the examination and consultation on dental implant procedure is costly before visiting the clinic to consult doctors directly. In order to share your concern, Dai Nam Dental is currently running a free examination and consultation program on such procedures. You are only required to book your visit in advance with our staff, then we will schedule an appointment between you and our doctors accordingly. In the appointment, all your concerns and questions will be answered as fast as we can and totally free of charge.
DAI NAM DENTAL – CLINICS FOR DENTAL IMPLANT PROCEDURE, TRUSTED BY CELEBRITIES, OVERSEAS VIETNAMESE, AND FOREIGNERS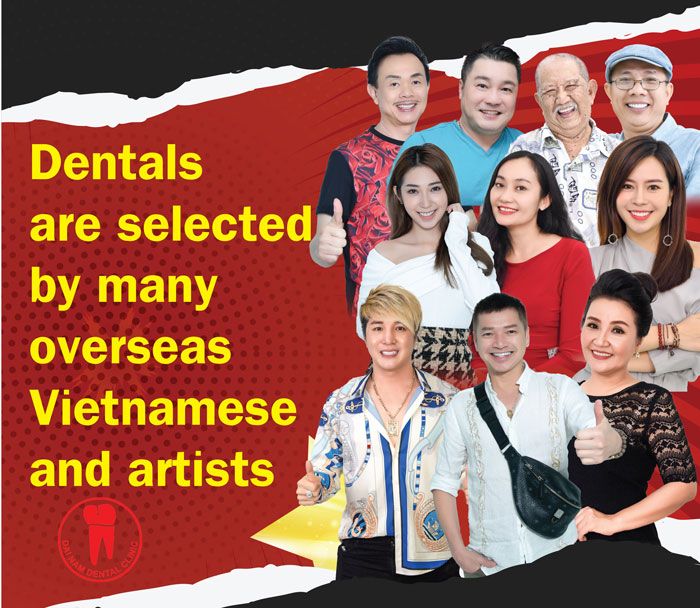 By satisfying multiple standards on quality, our clinics are trusted by a lot of artists, overseas Vietnamese, and foreigners as well. Many famous artists such as Chi Tai, Mai Sơn, Quang Minh, to name a few, via the introduction of their friends, knew and chose our dental service and felt totally satisfied with it. Due to their high satisfaction with the service, they have also introduced us to their friends and relatives for restorative dental implant procedure. Additionally, we have also earned the trust from overseas Vietnamese and become their first choice for all dental needs.
Everyday, we are serving dozens of overseas Vietnamese from US, Canada, Australia, UK, France, etc., who come to our clinics to have their oral issues taken care of when they come back to Vietnam. All have said that they are totally happy with the price, quality and services at Dai Nam Dental. That is why they highly recommended us to their friends and relatives. Dai Nam Dental considers these as our utmost pride and happiness.
PRICE LIST FOR DENTAL IMPLANT PROCEDURE
Thanks to its many advantages such as aesthetics, and more importantly lifelong durability, dental implant procedure has gained its popularity and preferences among patients with dental problems. But how much does it cost? What is the difference between that of single implants and full arch implants? For your reference, please see the latest price list below.
SINGLE IMPLANT: In general, the cost of dental implant procedure is quite reasonable because it's more advanced compared to other techniques. The total cost depends on the implant type and porcelain crowns you have chosen. The average cost varies from 800 USD – 1,500 USD for a single implant with abutment, excluding that of porcelain crowns. The price list at At Dai Dam Dental – The leading clinic for dental implant procedures in Vietnam is as follows (Price list attached). Please note that the price is not included with that of porcelain crowns.
FULL ARCH IMPLANT: The 2 most chosen techniques for full arch implant procedure are All-on-4 and All-on-6. Simply speaking, the two techniques will respectively place 4 or 6 implants into the jawbone in order to perform a full arch teeth restoration. All-on-4 varies from 6,000 USD – 20,000 USD while it is 7,500 USD – 22,000 USD for All-on-6. These are listed prices from implant manufactured and are considerably reasonable. Our price is quite affordable compared to that of other clinics in the area. For your best consideration and preparation, please see our attached latest price lis.
DENTAL IMPLANT
USD
AUD
EUR
UNIT
Korean Implant (Megagen-Active)
800
1132
713
Implant
Germany Implant (Megagen)
900
1274
802
Implant
French Implant (Kontack)
1000
1415
891
Implant
USA Implant (Biohorizon )
1200
1699
1069
Implant
USA Implant (Nobel Biocare )
1400
1982
1247
Implant
USA Implant (Nobel Biocare-Active)
1500
2123
1336
Implant
Switzerland Implant (Straumann)
1500
2123
1336
Implant
Switzerland Implant (TRI)
1500
2123
1336
Implant
Korean Implant (Megagen)
6000
8493
5345
jaw
French Implant (Kontack)
6500
9200
5790
jaw
Germany Implant (Megagen)
6934
9967
5262
jaw
USA Implant (Biohorizon)
7500
10500
7050
jaw
USA Implant (Nobel Biocare-Active)
12000
16985
10690
jaw
Switzerland Implant (Straumann)
12000
16985
10690
jaw
Switzerland Implant (TRI)
12000
16985
10690
jaw
Zygoma Implant
20000
28309
17816
jaw
Korean Implant (Megagen)
7500
10616
6681
Jaw
French Implant (Kontack)
8500
12031
7572
Jaw
Germany Implant (Megagen)
8980
12910
8760
Jaw
USA Implant (Biohorizon)
9500
16800
11280
Jaw
USA Implant (Nobel Biocare-Active)
14000
19816
12471
Jaw
Switzerland Implant (Straumann)
14000
19816
12471
Jaw
Switzerland Implant (TRI)
14000
19816
12471
Jaw
Zygoma Implant
22000
31139
19597
Jaw
SPECIAL PROGRAMS FOR DENTAL IMPLANT PROCEDURES AT DAI NAM DENTAL CLINICS
To help you have a happy smile and share your cost concern on dental implant procedures, Dai Nam Dental is currently running various promotional programs when you book your visits in advance.
Free examination and consultation.
10% discount for online bookings.
For dental implant procedures, instalment plans are available to valid owners of credit cards issued by specific banks.
Split payment (2 times) for dental implant procedures.
In addition, from time to time, Dai Nam Dental Clinic will apply additional programs, great deals and promotions. Customers please closely follow Dai Nam Dental's information to promptly get updated about our promotional programs.
For all inquiries and consultation on dental implant procedures, kindly call our hotline at (+84) 96 4444 999 to book your free examination and consultation session.

DAI NAM DENTAL CLINIC – "THE REPUTABLE DENTISTRY"
Dai Nam Hospital - Oral care centers better
179-181 Nguyen Thi Minh Khai, Dis1, HCM
Hotline: (+84)964 444 999
Mon–Sat: 8.00–8:00 / Sun: 8.00–6:00
Email: marketing.nhakhoadainam@gmail.com
More 32 branches here...