How much teeth bleaching service - Dai Nam Hospital
Cost of teeth whitening is always one of the top concerns of customers. In addition to good quality and service, reasonable price is an important factor for customers to choose a reputable teeth whitening site. Dai Nam Hospital is proud of having high-efficiency and affordable dental whitening services.
Teeth Whitening cost
The cost of teeth bleaching will depend on the bleaching method used. Currently, there are two methods of bleaching: teeth bleaching at home and bleaching in the room. Each method will have its own advantages that lead to price differences. Depending on your needs and requirements, you can make the suitable choice.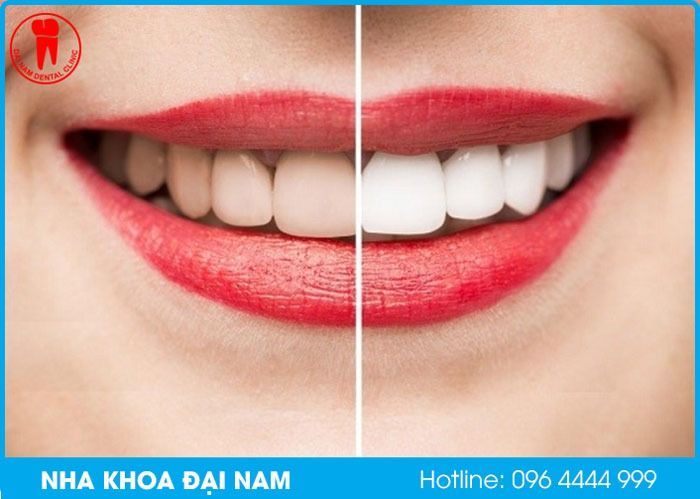 Teeth whitening has cost of  2.5 million VND/2 jaws while teeth bleaching at home havs cost 1.2 million VND/2 jaws. Teeth bleaching at home is characterized by rapid bleaching (only 45 to 60 minutes) and achieving immediate results, saving time and effort for customers.
With home teeth whitening, you have to hold the tray in mouth for about 2 hours a day and from 7 to 10 days is the end of a bleaching process. Bleaching at home takes longer but the cost is lower and still achieves whitening effect as desired.
Dai Nam Hospital provides teeth whitening combo at room and home to maximize whiteness for teeth. This combined service is preferred by customers because after bleaching in the room is maintained white when returning home. Combo (whitening at home + in the room) is 3 million VND / 2 jaws.
In addition, teeth whitening not sensitive combines with tooth bleaching in home which have cost of 4 million / 2 jaws also provides many benefits to the customer, especially for those with sensitive teeth. This service uses bleach and modern technology which does not effect on customers when bleached.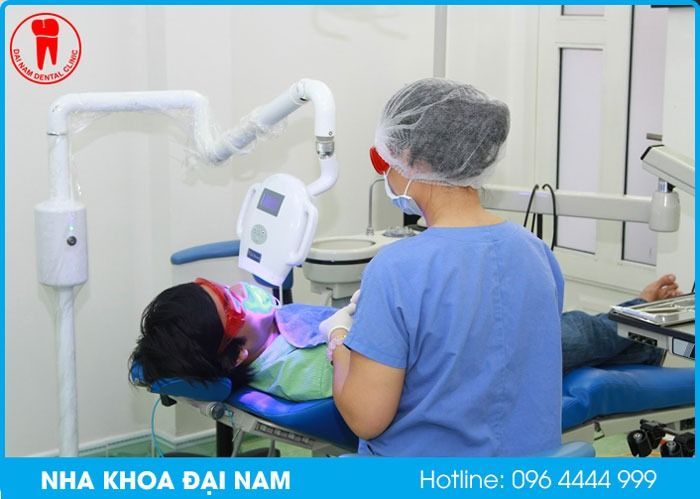 Bleaching procedure at Dai Nam Hospital
Step 1: Check up general oral health and remove the plaque to remove the bacteria and to help bleach easily penetrate into the teeth, which facilitates the bleaching process is effective.
Step 2: Separate teeth and protect the lips and gums by applying a gel that protects the gums.
Step 3: Applying bleaching gel on teeth with a thickness of about 1mm -2mm
Step 4: The doctor will light up the laser on your teeth for 10 minutes to 15 minutes. This procedure is repeated 2 to 3 times depending on the yellowing of the teeth.
Step 5: The doctor will clean the teeth and give you the necessary examinations after bleaching.
Tea, coffee, … are the foods you should not use after bleaching teeth because it is easy to coloring for the teeth. If you want to maintain the whiteness, you can use the porcelain crown method because the porcelain material is immune to food coloring.
Dai Nam Hospital – Address the teeth whitening prestige
Dai Nam Hospital is a prestigious hospital with more than 20 years experience in the field of aesthetics. Many customers who used to use services at Dai Nam Hospital have positive response with absolute satisfaction. With the method of teeth whitening, Dai Nam Hospital is proud to bring smile confidently to many customers with bright white teeth as desired.
In addition, Dai Nam has many doctors who have high of experiences and skills in advanced. They also regularly attend courses abroad. This makes customers extremely assured and trust.

If you have any questions about teeth whitening, please contact us with Hotline 096.4444.999 for free check up and consultation.
view more articles: Teeth Cleaning
DAI NAM DENTAL CLINIC – "THE REPUTABLE DENTISTRY"
Dai Nam Hospital - Oral care centers better
179-181 Nguyen Thi Minh Khai, Dis1, HCM
Hotline: (+84)964 444 999
Mon–Sat: 8.00–8:00 / Sun: 8.00–6:00
Email: marketing.nhakhoadainam@gmail.com
More 32 branches here...