All on four - New solution for the loss of full teeth
When people lose their teeth, they often think of implantation methods or implantation of 8-12 Implant cylinders to restore both jaws. However, with continuous research and development in the industry have launched a new solution for people with tooth loss. That is the implant method All on Four. What is implant technology All on Four? What is the difference between conventional implants? Come to Dai Nam Hospital to find out!
WHAT IS IMPLANT ALL ON FOUR?
A restoration solution for the loss of full teeth by implant four implants into the jaw. Then, It will fix 12 permanent porcelain teeth via the titanium bar. This bar is fixed to the four implants.
All on Four is the best solution today in terms of quality as well as cost. Instead of implanting directly from 8 to 12 posts on the jaw bone, now only 4 Implant head which guaranteed the aesthetics and function of the teeth.
WHICH CASES SHOULD BE RESTORED BY ALL ON FOUR METHOD?
Loss of whole teeth.
Severe periodontal disease, extraction of teeth.
Conserve bones that are not a loss after extraction.
In case of loss of teeth for many years lead to bone loss.
Customers do not want to use bridges or removable dentures to restore tooth lost.
ADVANTAGE OF ALL ON FOUR METHOD
Eating better than your real teeth.
It saves time and costs than conventional implants.
The transplantation process is less invasive and painless.
The teeth have shape and the color is the same as the real teeth.
The results are sustainable treatment in a long time.
Normal activities after surgery.

DISADVANTAGES OF ALL ON FOUR METHOD
Restoring 12 teeth on Implant instead of 14 teeth as usual. However, 12 teeth still meet the normal chewing ability.
Cost is higher than the method of recovery by removable teeth
PROCESS OF IMPLANT ALL ON FOUR METHOD AT DAI NAM HOSPITAL
Step 1: Perform a general physical examination, analysis, and appropriate treatment regimen.
Step 2: Get seal upper jaw and lower jaw to do trough positioning guide surgery.
Step 3: Three-dimensional CT scan of the patient with the guide surgery trough.
Step 4: The doctor performs anesthesia and implant the four implants into the jawbone. Then, the temporary teeth will be inserted to ensure chewing and aesthetics while waiting for healing.
Step 5: After 4 – 6 months, when the implant and the bone are integrated, the doctor will attach the fixed bridge to the implants, complete the treatment.
WHAT IS THE BEST PLACE TO IMPLANT ALL ON FOUR?
Implant technology All on four is a difficult technique, requiring to be performed by highly skilled physicians and modern equipment. Therefore, choosing a reputable, quality dental is essential for achieving the best results.
Dai Nam Hospital, with more than 20 years of experience in the field of dentistry, is proud to be the center of Implants surgery, successful restoration for many cases from simple to complex which appreciated by the experts and customers. Dai Nam gains the trust of customers, brand prestige over 20 years because of following reasons:
Dai Nam Hospital has doctors who have over 20 years experience in general dental treatment and implant implants in particular. Dai Nam dental have been successful in many cases from simple to complex. Doctors in Dai Nam are proficient, skilled and graduated from well-known universities in the country.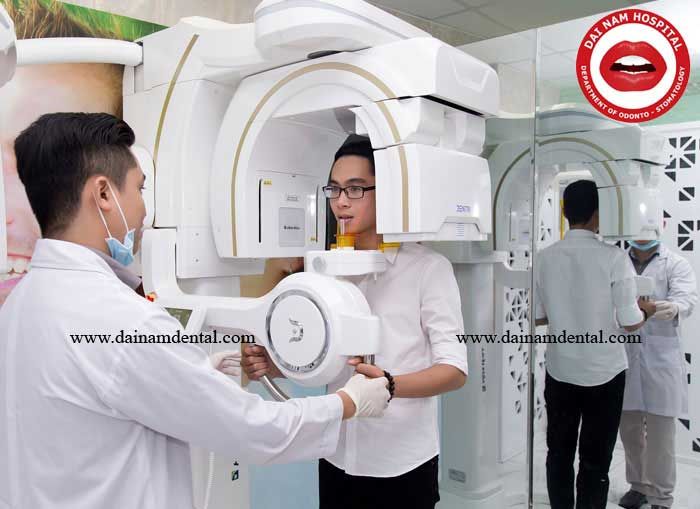 Investing in the latest technology and machinery which are imported directly from abroad. Dai Nam dental is equipped with CT system Cone Beam 3D, ensuring the best treatment results for customers.
The system of operating rooms, equipment, dental instruments are thoroughly sterilized, rigorous testing to ensure the process of safe treatment, no inflammation.
Materials of All on Four, All on Six methods like porcelain teeth are imported from foreign countries that are censored by the Ministry of Health and customs.
The system of more than 32 branches of Dai Nam Hospital is fully equipped with comfortable, clean space for the customers as at home.

The team of enthusiastic staffs always support customers in all cases.
Particularly, only at Dai Nam Hospital, when implanting implants will be guaranteed lifetime.
Pick-up and room service for distant customers.
Every year, over 1,000 cosmetic surgeries have been successfully performed, ranging from simple to complex.
In case of actual customers at Dai Nam Hospital: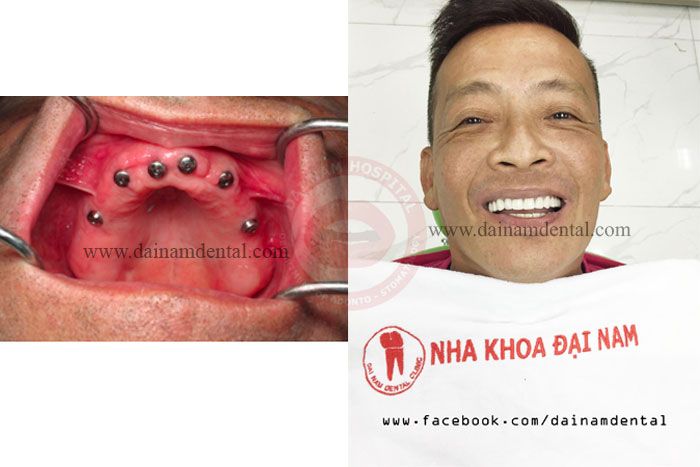 –    Yap Chuan Kek – Chinese natives live in Malaysia. She has younger teeth after restoration by the All on Six methods. (The results depend on the patient's natural disposition )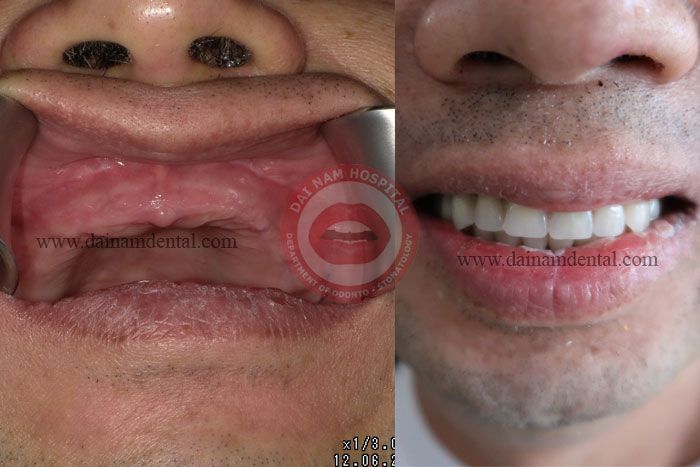 – Mr. Daniel Nguyen – Oversea Vietnamese. He has found a smile more perfect thanks to All on Four methods for the upper jaw. (The results depend on the patient's natural disposition )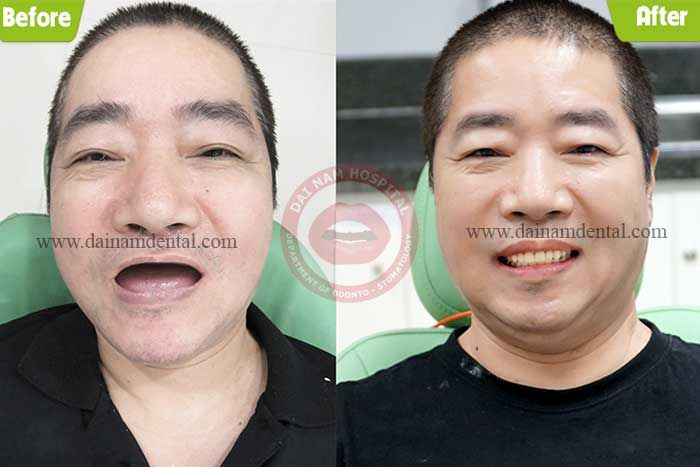 – Mr. Henry Tran – Oversea Vietnamese. He resurrected permanent teeth fixed by All on Six methods for the upper jaw and All on Four for the lower jaw. (The results depend on the patient's natural disposition )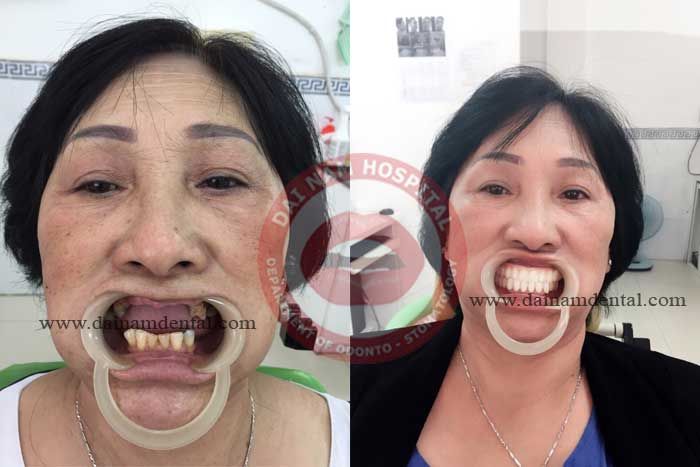 – Ms. Nguyen Hanh – Living in Danang. She is happy to restore the lower jaw with All on Four technology. (The results depend on the patient's natural disposition )
COST OF IMPLANT BY ALL ON FOUR METHOD
The cost of Implant All on Four depends on the type of implant you choose. At Dai Nam Hospital, the price of All on Four is inclusive of implant pillar and teeth on implants. To know the exact cost of each type of Implant All on Four, follow the price list below.
Implant price list at Dai Nam Hospital
Services
Prices (USD)
Implant Placement
Crown on Implant
Korea Implant
500
300
French Implant
700
300
USA Implant
900
350
USA Implant – Active
1000
350
Switzerland Implant
900
350
Switzerland  Implant – Active
1000
350
If you have any questions about Implant All In Four, contact Dai Nam Hospital directly at Hotline: 096 4444 999 to receive the free consultation.

DAI NAM DENTAL CLINIC – "THE REPUTABLE DENTISTRY"
Dai Nam Hospital - Oral care centers better
179-181 Nguyen Thi Minh Khai, Dis1, HCM
Hotline: (+84)964 444 999 - 1900 2879
Mon–Sat: 8.00–8:00 / Sun: 8.00–6:00
Email: info@benhviendainam.vn
More 32 branches tại đây..