List of things to know about Implant All on Four
The All on Four implants is the most advanced technology available for cases of total tooth loss. This method is being appreciated by experts about quality and efficiency. Therefore, what should you note when implant by All on four methods? Let find out this information with us:
WHAT IS THE IMPLANT ALL ON FOUR PROCESS?
Implantation of All on Four at Dai Nam Hospital is a completely different technique than conventional implants. Therefore, this process is quite different. Details of the  All on Four implant process will be described below.
HOW IS THE PROCESS PERFORMED?
During surgery, the doctor will display the patient's teeth on the support device to give the exact location of the four implants. Treatment procedures are locally anesthetized to minimize the risk of surgery. However, there are some cases which need to be required anesthesia and sedation, all of which are discussed with the physician directly before treatment.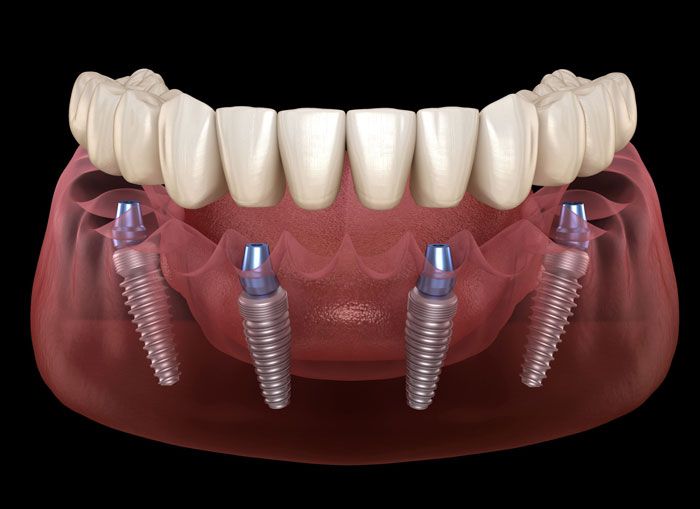 HOW LONG DOES THE TREATMENT TAKE?
For this method, the teeth on the Implant by All on Four technique will be placed in the oral cavity within three days. This implant save much time than conventional implants.
Why time is so short? Because with the Implant All on Four method, patients need only 4 implant pillars for all teeth to replace on the jaw and also does not require too much about bone graft.
WHAT HAPPENS AT THE TIME OF TREATMENT?
The second day after implanting 4 implants pillar that will be for the test. Your new teeth will be attached to the wax base and tested for chewing and daily hygiene. During the test, the teeth will be adjusted to the position, the color so that teeth look more natural on the jaw. Function and aesthetics of teeth are guaranteed like true teeth. During the dental test, you can also evaluate the results of the All on Four methods.
WHEN WILL YOU BE ATTACHED THE TEETH ON IMPLANT?
New Teeth on your Implant will be fixed on the third day. When completing this phase, you will restore your beautiful new teeth with a radiant smile.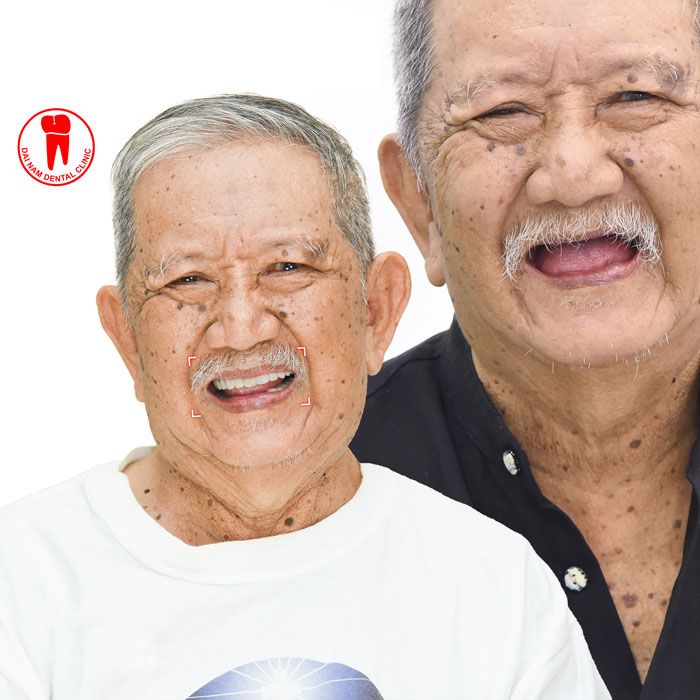 HOW MANY TIMES TO MOVE TO THE HOSPITAL DURING TREATMENT?
Customers are always worried about moving during treatment. To answer this question, Dai Nam Hospital applies the All on Four treatment protocol within 4 appointments.
First visit: Examination, diagnosis, examination of general dental status by modern technology, CT CT Cone Beam to diagnose bone.
Second visit:  Implanting and get the seal your teeth. The whole process will be locally anesthetized but there are cases of forced general anesthesia.
Third visit: Patients will be fitted with new teeth. If you feel uncomfortable or color is not satisfactory will be adjusted during this period.
Last visit: The newly fixed teeth inserted into the Implant. You will be completely satisfied with new teeth and confident smile, comfortable eating from now on.
DAI NAM HOSPITAL – PRESTIGIOUS DENTAL CENTER
Implant technology is a difficult technique, requiring to be performed by highly skilled physicians and modern equipment. Therefore, choosing a reputable, quality dental is essential for achieving the best results to avoid the unfortunate risks.
With more than 20 years of experience in the industry, Dai Nam Hospital is proud to be the top 10 center of dental restorative which is voted by the experts and customers. We have a prestigious brand during the last time  because of following reasons:
The team of doctors – professors, technicians have experienced more than 20 years and have been trained professional skills in countries such as England, USA, Germany, France…
Paying attention and investing equipment system, the most advanced technology which are imported directly from Europe.
Dai Nam Hospital is one of the first centers to apply All on Four, All on Six in tooth loss restoration which bringing high efficiency.
All materials for the treatment process are imported directly from abroad, with the clear origin and be censored by the Ministry of Health.
Surgical rooms, dental instruments are thoroughly sterile to ensure absolute safety for the treatment of patients.
The system of more than 32 branches of the hospital is fully equipped, with spacious space which brings comfortable feeling for customers.
Thoughtful staff always ready to support customers in the shortest time.
Good customer service, support for pick up for the customer at the airport.
Dai Nam Hospital is the only center for lifetime Implant warranty.
Every year, on average, Dai Nam Hospital restores and brings healthy teeth, perfect smile to more than 1,000 domestic and foreign guests. This is the greatest joy that we always strive to develop stronger.
Dai Nam Hospital has performed successfully for many dental restorations when using All on Four methods. To find out whether your condition is compatible with Implant All on Four or not, please contact us at Hotline: 096 4444 999 for the free consultation.

DAI NAM DENTAL CLINIC – "THE REPUTABLE DENTISTRY"
Dai Nam Hospital - Oral care centers better
179-181 Nguyen Thi Minh Khai, Dis1, HCM
Hotline: (+84)964 444 999
Mon–Sat: 8.00–8:00 / Sun: 8.00–6:00
Email: marketing.nhakhoadainam@gmail.com
More 32 branches here...