IMMEDIATE IMPLANT PLACEMENT AND RESTORATION
An implant is a comprehensive new tooth restoration solution which ensuring better chewing function and helping teeth be more white naturally. In today's dental industry, implant prosthetics is widely applied, helping patients feel more comfortable to save time, effort as well as the cost of treatment. What are the features of implants immediately compare with conventional implants? You could find out more about this information with the Dai Nam Hospital through the article below.
Immediate dental implant placement is a case which implant teeth immediately on fang after implanting 72 hours. Normally, while implanting, patients have to wait for 4 to 6 months to help implant head integrated and stable in the jaw bone, then it is possible to repair dentures (insertion of porcelain crowns) on the implants. However, with the rapid development of implant technology in the dental industry, immediate restoration could be done immediately but the patient must ensure the necessary conditions.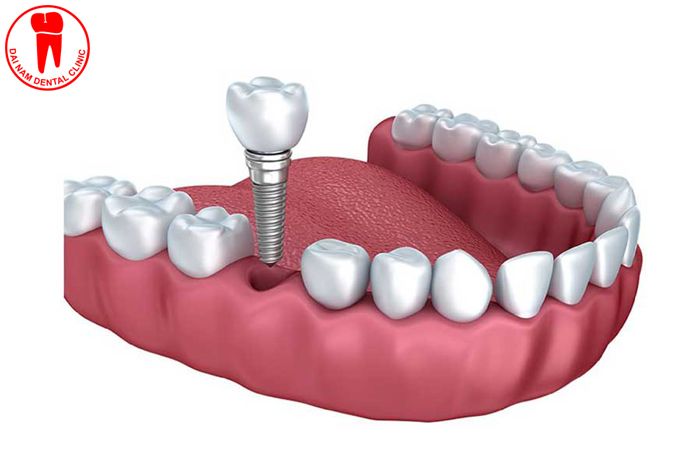 CONDITION FOR IMMEDIATE DENTAL IMPLANT PLACEMENT
Immediate restorations on implants can be made in a number of cases that meet the following requirements:
Patients have to have metrics such as torque index> = 45 (bearing capacity of implants) and stability ISQ> = 70.
Good bone mass to fit and integrate quickly with the implant.
Bone quality must be guaranteed (bone be not osteomalacia).
Using high standard implant to suit for immediate restoration.
Doctors must have a high level of expertise and skills. Implant technology must ensure accuracy that creates stability, good bone integration, and healthy teeth.
BENEFITS OF IMMEDIATE IMPLANT PLACEMENT
Time-saving: The two techniques of prosthodontics are performed in only one surgery, thus saving considerable time for treatment, creating better psychological experience for patients.
Cost savings: The cost of transportation and the accrued expenses during many times to examine will save significantly.
Improving the jaw bone, prevent bone loss. This is the first advantage that other methods of restoration failed.
In particular, keep the face muscles unaffected, keep the natural features and balance on the face.
Making less pain because of only 1 anesthetic for minor surgery and postoperative care. The process is softer and simpler.
Do not  wait too long to put the crown on.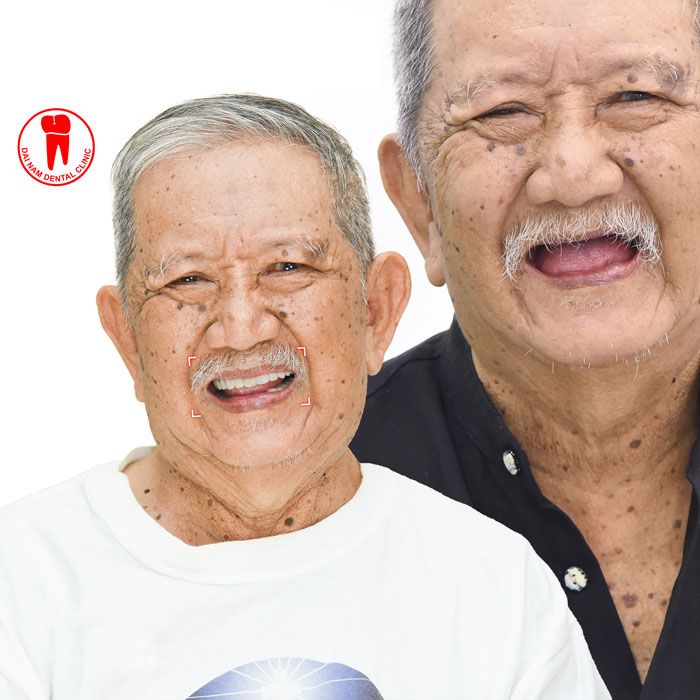 IMMEDIATE IMPLANT RESTORATION METHOD PROCESS IN DAI NAM DENTAL
Step 1: Examination and counseling: Carry out a general dental check-up and health checkup. Using CT Cone Beam Method to reviews, analyzes the bone status to give the regimen, the size of the implant and the appropriate treatment.
Step 2: Performing hygiene and anesthesia: The doctor will clean the oral cavity to ensure that there is no invasion of the bacteria after minor surgery. Anesthesia is used to relieve the pain of the patient and help the process of performance of the doctor be more smooth.
Step 3: Implanting the implant into the jaw.
Step 4: Getting the seal of teeth to restore (while implanted or after a day)
Step 5: Designing porcelain teeth in Labo with modern technology, porcelain teeth will be completed within 24 hours with accuracy of international standards.
Step 6: Restoration ( insert the crown on implant)
Step 7: Re-Examining Implant: doctors will take X-ray to check your teeth restoration.
DAI NAM HOSPITAL – ADDRESS TO IMMEDIATE IMPLANT TREATMENT AND TEETH RESTORATION RELIABLY
With more than 20 years of experience in dentistry, Dai Nam Hospital is proud to be one of the few dental to be able to perform "Immediate Implant" treatment method. This solution brings high efficiency to customers. Achievements and brand prestige that we gain during the past time is thanks to:
Convergence of doctors has high of skilled and experienced over 20 years in the profession. Doctors at Dai Nam Hospital have been trained intensively and trained at reputable universities in the UK, France, Germany, USA, …Each doctor will be in charge of their own specialties. This leads to the effect of the treatment is quite high.
Dai Nam Hospital always notices to investing in new equipment and modern technology imported directly from abroad. All of which support the success of the treatment.
Implant head, dental porcelain material had a clear origin. These are imported from abroad and are censored by the Ministry of Health.
The system of treatment rooms, dental instruments are thoroughly cleaned sterile, ensuring absolute safety.
The system of more than 32 branches of Dai Nam Hospital is fully equipped, spacious space, cool design with luxurious, comfortable feeling for all customers.
Our thoughtful staffs are always available to answer your questions in the quickest time.
Customer policy and warranty policy is clear, ensuring the interests of customers.
On average, we have been performed more than 1,000 Implant restorations for domestic and foreign clients. Dai Nam Hospital has received a lot of positive feedback.
To achieve the desired results, avoid the risk of unfortunate, people should explore many facilities to choose a most prestigious center. If possible, take some time to visit the Dai Nam Hospital to give the more objective assessment.

DAI NAM DENTAL CLINIC – "THE REPUTABLE DENTISTRY"
Dai Nam Hospital - Oral care centers better
179-181 Nguyen Thi Minh Khai, Dis1, HCM
Hotline: (+84)964 444 999
Mon–Sat: 8.00–8:00 / Sun: 8.00–6:00
Email: marketing.nhakhoadainam@gmail.com
More 32 branches here...