Best Implant available on the market
Implant placement – One of the wonderful inventions of Medicine, in general, and of Dentistry, in particular, which has brought a new golden age to the oral wellness of people all over the world. Dai Nam Dental is one of the first dental clinics in Vietnam which applied implant surgeries in dental restoration for our patients. So, what exactly is dental implant placement or implant placement?
How are dental implants constructed? Who can use dental implant surgery? How long does the process take? What are their advantages over other treatment techniques? What are the main characteristics of dental implant surgeries at Dai Nam Dental Clinic? All questions above will be clearly answered in this article in order to bring valuable information to our customers.
What is dental Implant placement?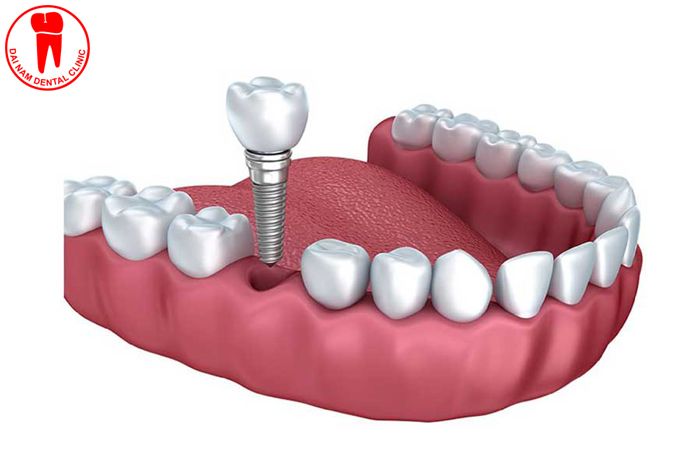 Restoring lost or damaged teeth using implants is a technology which inserts titanium screws into the jaw bone to replace missing natural roots. Dentists will then attach porcelain crows on top of the implants by using joints called Abutments to complete the restoration process. Dental restoration using implants is considered one of the most advanced techniques in the field and widely chosen by lots of patients. This method has a permanent effect, which means the prosthetics can last a lifetime. Its use cases are also various, from a single tooth loss to multiple teeth loss. For your visual convenience, we'd like to share with you the composition of implants.
Implants are made of 3 indispensably important components: Fixture, Abutment, and Crown. Without any of them, the creation of an implant will fail.
Fixture: it is made from titanium which is rustproof, anticorrosive, does not cause irritation or any effect to the body. It is cylindrical or screw- shaped. Its surface is designed to have clockwise spirals to ensure the highest bone integration. This part will be screwed into the jaw bone at the position of the lost tooth to act as the replacement for a tooth root. There are several lines of implant products from which the most appropriate type will be advised by doctors, depending on the existing dental status of each patient.
Abutment: It is an element connecting the fixture and porcelain crown to form a complete implant. It is placed above the gum and has 2 ends. One is firmly attached to the fixture, the other to the porcelain crown which functions as a bridge supporting the crown on top of the implant.
Porcelain crowns: also known as porcelain teeth which are the final component forming a complete false tooth, guaranteeing aesthetics and chewing ability. Porcelain crowns are designed with a hollow core inside and attached to the top of the abutment. They are designed based on each person's particular dental impression, so their shape and color are similar to other existing natural teeth. Depending on the patient's budget and needs, the use of either all-porcelain or metal-porcelain teeth will be advised by doctors.
Best Implants on the market now
There currently are many product lines for implants coming from different brands. However, in order to pick the best implant for your utmost safety, it is highly recommended to choose a well known clinic where you can get the best professional consultation from dentists there.
Implant from US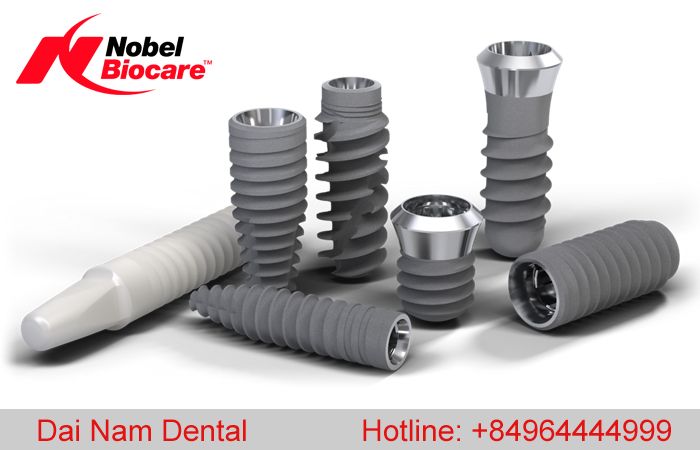 American implants are one of the best and mostly used ones in the world. They are diverse in size and price. Of various American implant products, Nobel Biocare is the pioneer and leading brand globally.
Swiss Implant
Beside America, Switzerland is also considered one of the leaders in manufacturing dental products and materials, in which implant production is the most outstanding, especially with TRI implants. This is a famous brand with more than 50 years of experience which has manufactured and supplied implant products to 70 countries in the world. In addition to TRI, Straumant is another implant brand made in Switzerland with equivalent treatment effects.
French Implant
For experts, when talking about French implants, first names that come to their mind are Kontact and Tekka. Among them, Kontact implants are rated the best and most popular implant in France and in the entire Europe. In Vietnam, skillful and experienced dentists are required for surgeries using these implants. French implants are a good choice for lost teeth restoration. Most importantly, in order to get a perfect result for the treatment, you should choose a well- known dental clinic having doctors who are trained and specialized in implantology.
German Implant
German made Megagen implants are also popular implant products in Germany and Vietnam. Their price is fairly low, but their effect is quite high. Because of that, many clinics, including Dai Nam Dental, have been using them for our patients who need dental implant restoration.
Korean Implant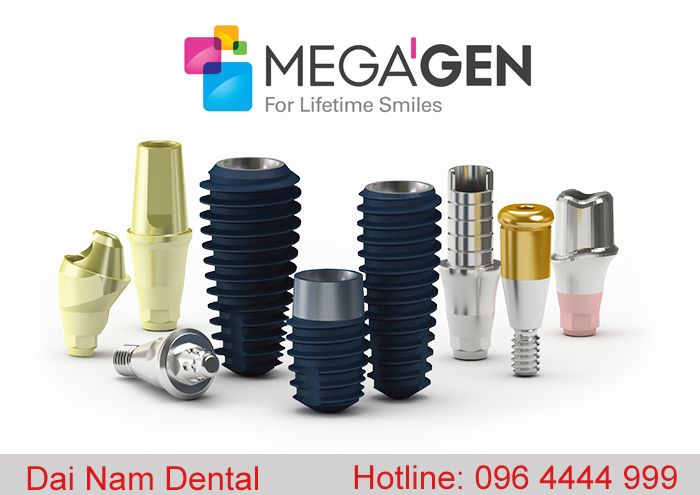 Megagen implants from Korea are fairly cheap compared to the implants mentioned above, but they still have excellent quality. This is the implant brand which has affirmatively helped set Asia's position in the field of medical materials manufacturing. All implants above are already available in Vietnam and being used by Dai Nam Dental for our clients in our 30 branches throughout the country. All the products are strictly checked for their quality by the health authorities. Technically, they are equivalent in quality and are only different in price which depends on their brand and availability at the time of having the surgery.
Price quotation for Implant
Total price varies depending on many factors:
Number of implants used: the price is calculated by multiplying the number of implants used with that of a single implant. The more you use, the higher the price, and vice versa.
Implant brands: Price also varies based on which implant is chosen. The average cost is from 700 USD to 1,500 USD.
Chosen treatment plan: price is different for each plan: using single implants, or All-on-4, or All-on-6. For All-on-4, it's from 6,000 USD to 12,000 USD while it's 7,500 USD to 14,000 USD for All-on-6. These are listed prices from implant manufactured and are considerably reasonable.
DENTAL IMPLANT
USD
AUD
EUR
UNIT
Korean Implant (Megagen-Active)
800
1132
713
Implant
Germany Implant (Megagen)
900
1274
802
Implant
French Implant (Kontack)
1000
1415
891
Implant
USA Implant (Biohorizon )
1200
1699
1069
Implant
USA Implant (Nobel Biocare )
1400
1982
1247
Implant
USA Implant (Nobel Biocare-Active)
1500
2123
1336
Implant
Switzerland Implant (Straumann)
1500
2123
1336
Implant
Switzerland Implant (TRI)
1500
2123
1336
Implant
Korean Implant (Megagen)
6000
8493
5345
jaw
French Implant (Kontack)
6500
9200
5790
jaw
Germany Implant (Megagen)
6934
9967
5262
jaw
USA Implant (Biohorizon)
7500
10500
7050
jaw
USA Implant (Nobel Biocare-Active)
12000
16985
10690
jaw
Switzerland Implant (Straumann)
12000
16985
10690
jaw
Switzerland Implant (TRI)
12000
16985
10690
jaw
Zygoma Implant
20000
28309
17816
jaw
Korean Implant (Megagen)
7500
10616
6681
Jaw
French Implant (Kontack)
8500
12031
7572
Jaw
Germany Implant (Megagen)
8980
12910
8760
Jaw
USA Implant (Biohorizon)
9500
16800
11280
Jaw
USA Implant (Nobel Biocare-Active)
14000
19816
12471
Jaw
Switzerland Implant (Straumann)
14000
19816
12471
Jaw
Switzerland Implant (TRI)
14000
19816
12471
Jaw
Zygoma Implant
22000
31139
19597
Jaw
At Dai Nam Dental, all implants we provide are eligible to a permanent warranty plan. Implantologists working on implant surgeries at Dai Nam Dental for our patients are under direct guidance of Dr. Ho Ngoc Tien Trung who was trained in the USA and a Master's Degree in Implantology holder. Additionally, all members in our implantology department are regularly sent to attend professional training in medically advanced countries such as the USA, Australia, Germany, Korea, etc. in order to provide our patients with utmost safety during and after their treatment.
If you are in need of implant placement, kindly contact us via our hotline at 096 4444 999 to book your free examination and consultation session.

DAI NAM DENTAL CLINIC – "THE REPUTABLE DENTISTRY"
Dai Nam Hospital - Oral care centers better
179-181 Nguyen Thi Minh Khai, Dis1, HCM
Hotline: (+84)964 444 999
Mon–Sat: 8.00–8:00 / Sun: 8.00–6:00
Email: marketing.nhakhoadainam@gmail.com
More 32 branches here...